This mode combines all your appointments, tasks, birthdays and events information, displaying it in one place. We introduced the Today feature to simplify your time planning process and to speed up the access to information needed.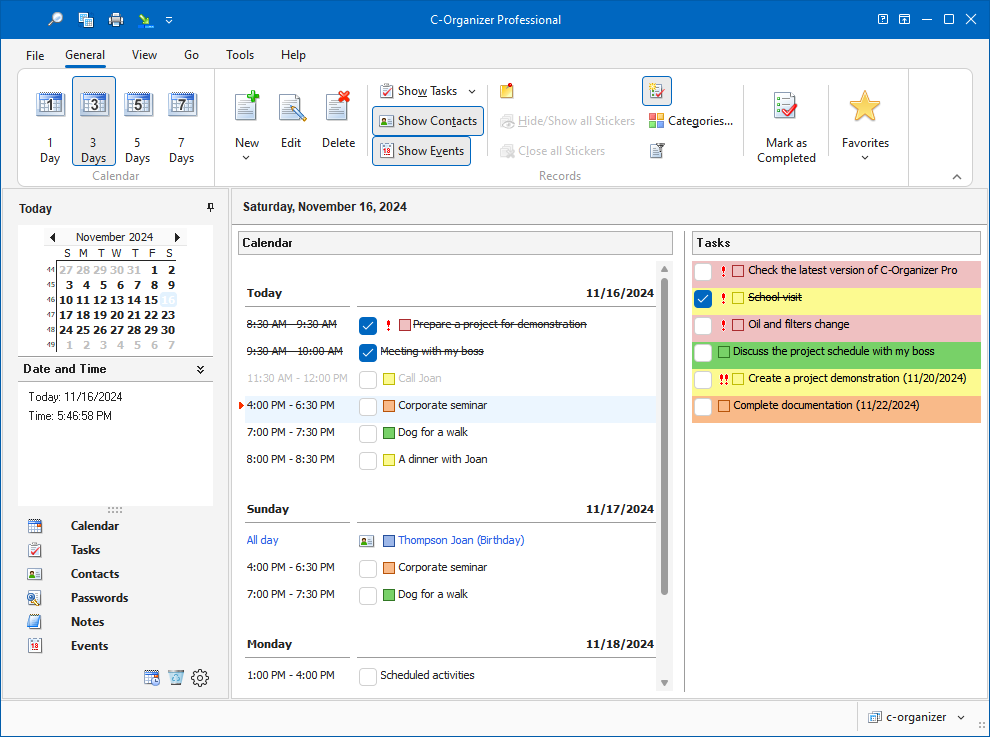 You can set up different time periods to display your information: 1, 3, 5 or 7 Days. Moreover, unlike most competitors, C-Organizer allows to select not only period. You can select any date on the program's calendar and C-Organizer will show a summary information for selected date!
To edit any entry you can simple double click it and it will be opened for editing. Moreover you can edit your appointments and tasks directly in Today mode or by clicking an appropriate button on the program's toolbar.
C-Organizer allows to show and hide birthdays, tasks and events. Just click an appropriate buttons: "Show Contacts", "Show Events" or "Show Tasks".
Moreover, the "Show Tasks" command has several additional options:
Show Tasks for selected period - when this option is on, C-Organizer will show tasks, which match to selected period on the program's calendar.
Show Tasks without date - if this option is selected, C-Organizer will include tasks without date into the Today's report.
Show all Tasks - when this option is on, C-Organizer won't filter tasks by period and will show all tasks entries.
Please note, that you can show or hide completed tasks and appointments by clicking the "Show Completed" button.
Also all entries can be filtered by category. See the Working with Categories help topic.
To print the Today report, please click the "Print" button. "Today" window will be printed "As Is". If necessary, you can edit this report in the "Print Preview" window.