When setting the reminder time for Calendar, Tasks, Contacts and Events, you can set the additional notification options. To access additional options, click the

button in the "Add/Edit record" window. A dialog box will appear: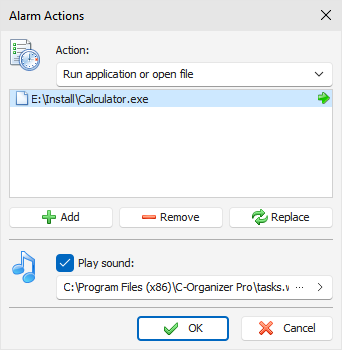 Action here you can choose one of the additional actions to be taken at the alarm goes off: Run application or open file, System shut down, System restart, User log off.
Once you have chosen Run application or open file option, you can add a file or a list files to be run.
Click the "Add" button, chose a file or a document, enter parameters (if necessary) then click "OK".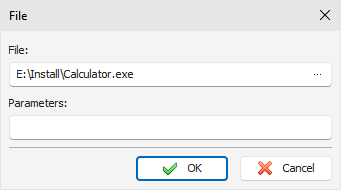 The document you have chosen will be included into the list. The list can contain an unlimited number of documents.
You can edit or delete the list elements by selecting the necessary line and then pressing "Replace or "Remove buttons.
Besides that, the program gives the opportunity to turn off the sound and to set an individual sound file for each record. To test a chosen sound file, click the "Play" button near the sound file name.