The Export function allows converting C-Organizer database information into other formats and sharing this information with other programs.
To use this function, choose the "File - Export" program's main menu item.
The export dialog box will appear: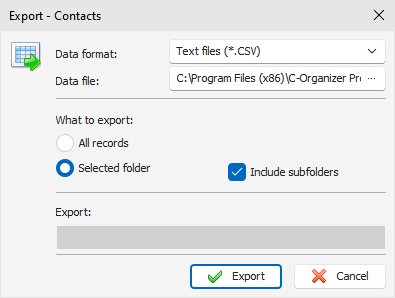 Set the format you would like to convert the information to.
The following formats are supported:
Text files (*.CSV)
XML files (*.XML)
C-Organizer databases (*.CNDB)
Specify the file you want to export the information to.
Choose the information you would like to export, using What to export options.
Then click the "Export" button.
You will see the Export progress indicator in the lower part of the dialog box. A notification message will appear when the export process is complete.
Note: C-Organizer offers to export entries from the current selected section. So if you have opened Contacts section in the main window and opened Export, the entries from the Contacts section will be exported.