To add a new task press the "New Task" button or double click the empty area inside the viewing area. You can use shortcuts Ins or Ctrl + N as well. Also you can create a new entry in the Tasks area by entering data in the upper row.
If you would like to create a subtask, please click the "New Subtask" button and C-Organizer will create a child task for selected entry.
To edit an already existing entry press the "Edit" button or double click the record you want to edit in the viewing area. Also you can use Ctrl + Enter shortcut.
Dialog box for working with tasks: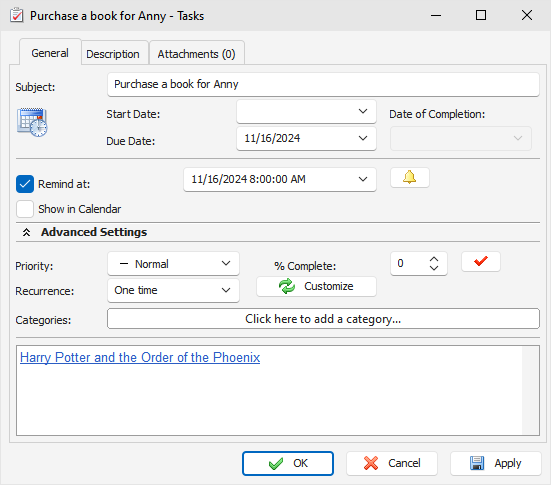 Fields description:
Subject - a records title.
Start Date - a date of starting the task.
Due Date - a date when the task has to be completed.
While creating a task you can omit entering this information or enter just the Begin or End dates.
For recurring task, make sure that you have entered the End date.
Date of Completion - a date when the task was actually completed. This field is unavailable for editing, if the task progress indicator is below 100 %. When the task is completed, the date of completion is set automatically and the field becomes available for editing.
Below you can see the notification options:
Remind at: here you can set up date and time when you would like to get the notification about a task.
To get access to the Extended notification options, click the

button to the right of this field.
Show in Calendar - this option is available when you specify task's Start or Due Date. When this option is turned on, the task will be shown with your appointments in the Calendar and Today sections. You will see it directly in calendar, even if Tasks Panel is turned off.
Priority - a task's priority level. The following priority levels are available: Highest, High, Normal, Low, Lowest, and Unknown.
% Complete - this field allows you to track task progress (percentage) or to mark the task as completed by choosing 100% or by clicking the

button to the right of this field.
Recurrence - these settings enable you to make any task a recurring one. When you change the model or press the "Customize" button, the extended recurrence options window opens, giving you an opportunity to select and set an appropriate recurrence template.
Categories - here you can assign one or more categories to the entry. See "Working with Categories" topic for more details.
Description - use this field to enter an additional task information and its description. The description field supports rich text formatting (RTF), pictures, tables and hyperlink insertion. See Working with text and descriptions topic more for details.
Attachments - allows to attach any file to the entry. All attached files will be stored directly in the database. See "Working with Attachments" topic for more details.