C-Organizer installation package comes with a demo database file. When you run the program for the first time you will see the demo entries. Feel free to create a new database file by choosing File - Database Manager main menu item, or editing existing database.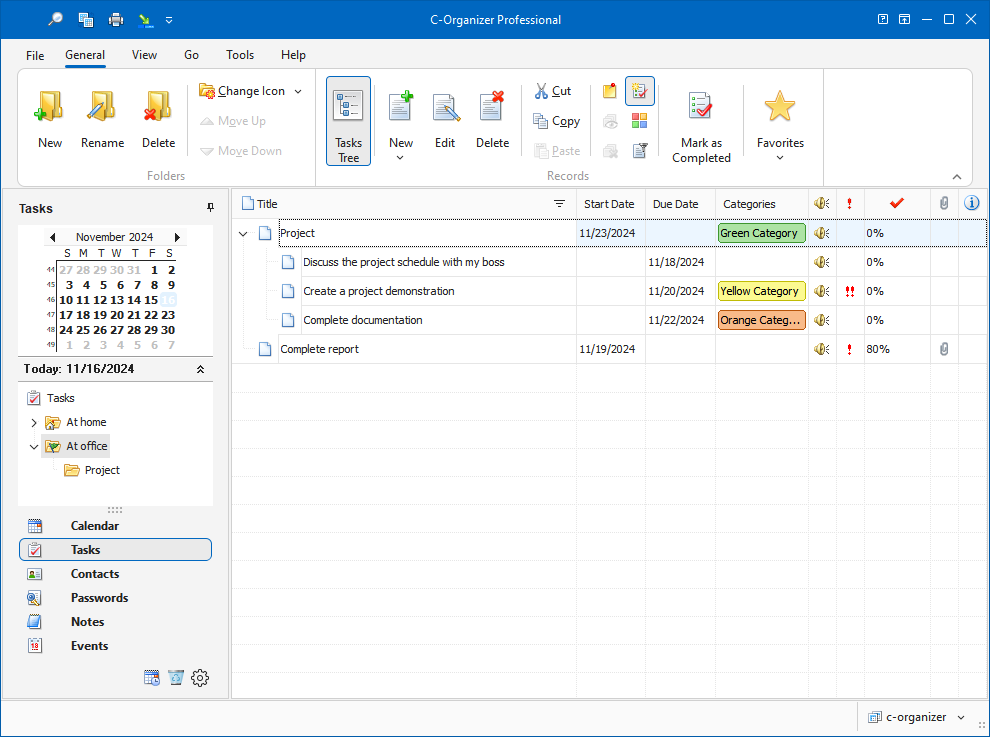 In the left part of the program's main window located calendar, documents tree and buttons for choices between the different program's modes: Calendar, Tasks, Contacts, Passwords, Notes, Events, Today and Deleted Items.
You can show, hide left panel, or change its position using "View - Navigation Panel" main menu item: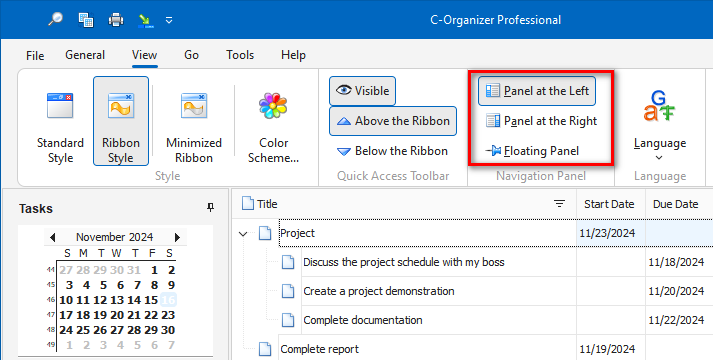 The right part is intended for showing the available information. In the top of the window, there is a main menu which can help you to access practically all functions of the program.
If you're closing the window by pressing the button, "Close window", at the upper right corner of the window, the program will be minimized to system tray and it will continue to run there. If you want to quit the program, use the command "File - Exit" " of the main menu.
You can also right click the C-Organizer Pro icon in the system tray and then select "Exit".
For easy access to the program, at start C-Organizer Pro creates an icon in system tray near the Windows system clock. This icon displays the current date.

You can open the main program's window by clicking this icon with the left mouse button, or if you click the right mouse button, you will see a context menu with the most frequently used functions of the program:
·Open C-Organizer - opens the main window of the application, just as the left mouse button click does.
·New - allows to create a new entry without opening the main window.
·Hide/Show all Stickers - opens or minimizes all opened sticker windows.
·Close all Stickers - closes all opened sticker windows.
·Options - the program settings.
·Today - C-Organizer will be opened in "Today" mode, spanning the chosen day summarized information: appointments, tasks, birthdays and events.
·Exit - exit from the program (is similar to the command "File - Exit" of the main menu).