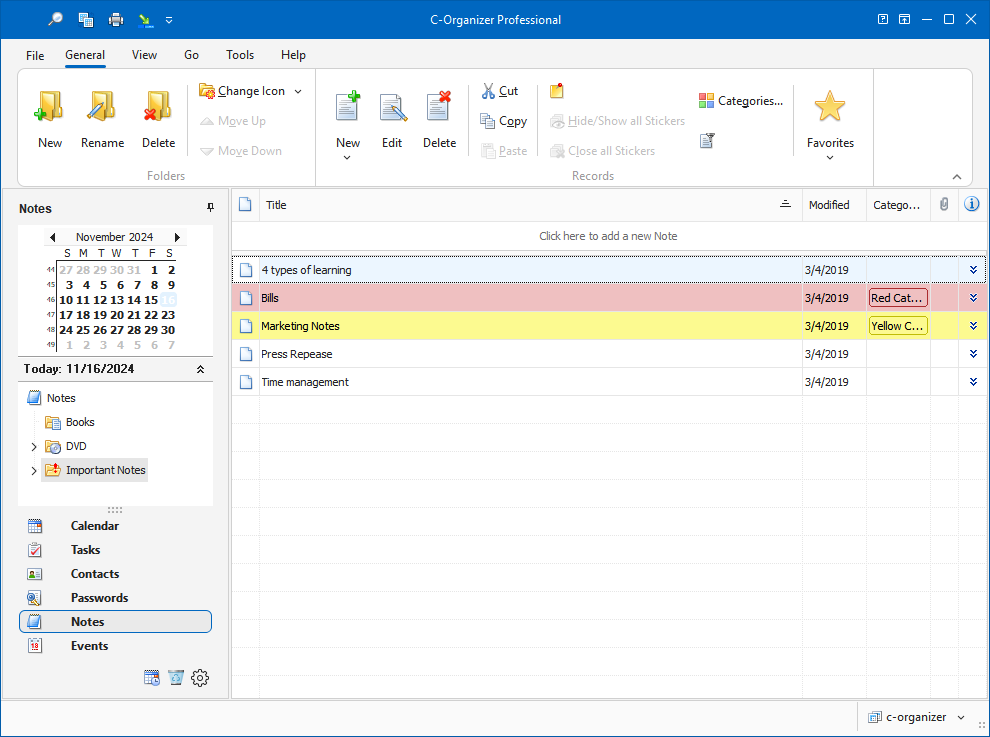 Notes are designed to let you store various types of text information. You can use Notes to type in any records, important ideas, personal diary, etc.
This mode supports any font, size, color and style settings; you can also insert images, tables, Internet files hyperlinks, local network files, your computer files and C-Organizer database records.
Besides, the Notes allows systemizing your information by placing it into the appropriate folders. The data inside the viewing area has a tree-like structure.
Moreover you can change a folder picture for better visualization. Just click the "Folders - Change Icon" main menu item and choose one of predefined pictures or load own picture from file. The picture size is 16x16 pixels.
Use the "New Folder" button to create a new folder, "Rename" button to rename folder, and "Delete Folder" button to delete selected folder. Also you can use the Ctrl+Alt+N, Ctrl+Alt+E and Ctrl+Alt+D shortcuts or the context menu commands in the Documents tree area.
To simplify the information grouping process we added Drag & Drop support, so just drag the notes or the notes groups to place them inside folders. Also you can cut or copy any entry and paste it into other folder using an appropriate buttons or shortcuts (Ctrl+X, Ctrl+C, Ctrl+V) or using the context menu in the Notes area.
Also you can drag any note to the program calendar to create a new appointment, linked to this note.
You can filter your entries by category. Just click the "Filter by Category" button. In this case you will see only notes, which match to the selected categories.
All entries in the list can be filled with the first category color, if this option is on (see the Notes Preferences).
Besides, in the view area you can see a record title, modification date, categories and whether a note description is available.
When note description is available, you can view it by pressing the following button:

.
Furthermore, a note can be posted as an electronic sticker on a computers monitor. Just select a note and click the "Show as Sticker" button.
See the chapter How to preview a record and to work with stickers for more details.
Each entry can be edited directly in the view area, you even can create a new entry by entering data in the upper row.