To add a new contact press the "New Contact" button or double click the empty area inside the viewing area. You can use shortcuts Ins or Ctrl + N as well.
To edit an already existing entry press the "Edit" button or double click the record you want to edit in the viewing area. Also you can use Ctrl + Enter shortcut.
Dialog box for working with contacts: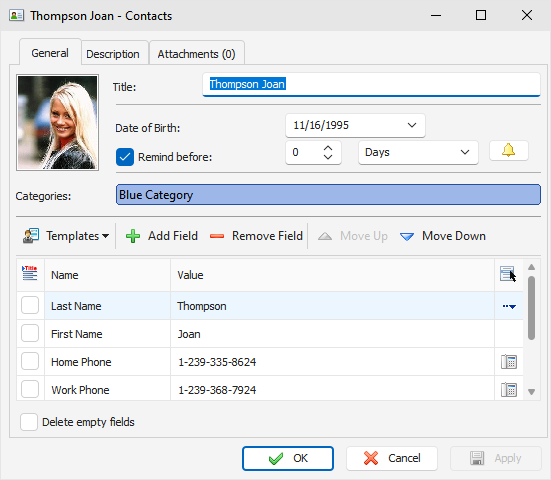 Fields description:
Title a records title.
Date of Birth here you can enter the date of birth.
Below you will find the notification options:
Remind Before you can set how much time before a birthday date you would like to receive a notification. You can choose a number of days or weeks.
To get access to the Extended notification options, click the

button to the right of this field.
Categories here you can assign one or more categories to the entry. See "Working with Categories" topic for more details.
To work with a picture, move the mouse over picture area and you will see the buttons:

Click the

button and chose a picture file you would like to add. The program supports major picture formats.
Use the

button to open built-in picture viewer. Here you can see a full size image, load other picture, save it to file etc.
To delete a picture, click the

button and picture will be removed.
Additional fields
The program gives you the capability to add any another information about a contact person into the additional information area.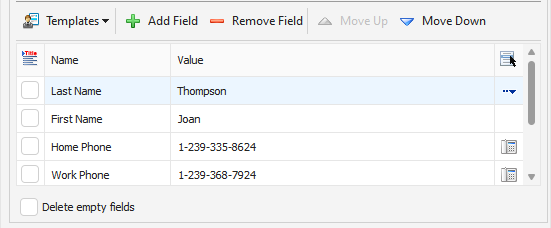 This area looks like a table. By default, it contains the list of most frequently used fields. However, you can add or remove fields using Add Field and Remove Field buttons, as well as change the fields order using Move up and Move down buttons.
When you click the Add Field button, the dialog box will be opened: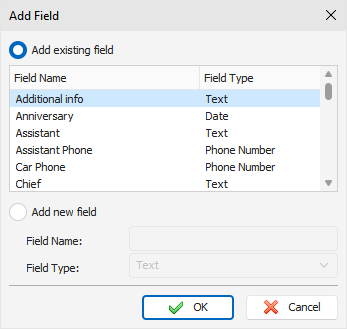 In this window you can add any existing field or create a new one. If you create a new filed, you should enter unique filed name and select field type:
Text, Phone Number, E-mail Address, Web Address or Date.
Date fields supports reminders.
You can save your own fields list as a template and use it when adding new records into the Contacts.
Mark the fields you would like to use as the records title. In this case the records title will be created automatically.
Description use this field to enter an additional contact information and its description. The description field supports rich text formatting (RTF), pictures, tables and hyperlink insertion. See Working with text and descriptions topic more for details.
Attachments allows to attach any file to the entry. All attached files will be stored directly in the database. See "Working with Attachments" topic for more details.