Use the Restore function to restore the C-Organizer databases from the previously created backup copy.
To restore C-Organizer database, select the "File - Restore" C-Organizer main menu item.
After that you will see the Restore dialog box.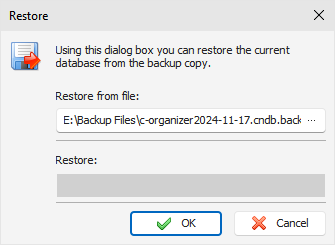 Specify the file name from which you want to restore the information.
After that, press the "OK" button.
You will see a progress indicator at the bottom of the window.
When restore completed, you will receive an appropriate message.
Note: when you connected to a server, this function is available for database administrator only.