Backup function is used to create a backup copy of C-Organizer databases. Active database will be saved into a single file. This file name will contain a database name and backup date.
For example: if you are working with c-organizer.cndb file, backup copy of this file will be named c-organizerYYYY-MM-DD.cndb.backup, where YYYY - year, MM - month and DD - day of backup operation..
You can use this file to restore database if it will be necessary.
To make a backup copy, click the "File - Backup" C-Organizer main menu item.
After that you will see Backup dialog box: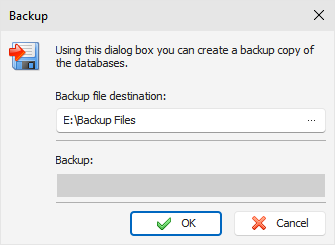 Specify the backup files location and press the "OK" button.
You will see a progress indicator of the backup at the bottom of the window.
Before create a backup copy, C-Organizer will pack the database file automatically. When backup is completed, you will receive an appropriate message.
Note: C-Organizer can create the backup copies automatically. See the Backup options help topic for more details.
When you connected to a server, this function is available for database administrator only.