C-Organizer has a spell-checking feature. You can check spelling not only in the main text editor. This function will work and for any text box in the program if "Tools - Automatic spell-checking" option is turned on.
To run spell-checking manually click the "Spell Checking" button in the text editor or press F7 button on your keyboard.
Spelling Options
To access spelling options click the "Tools - Spelling Options" main menu item. You will see a dialog box: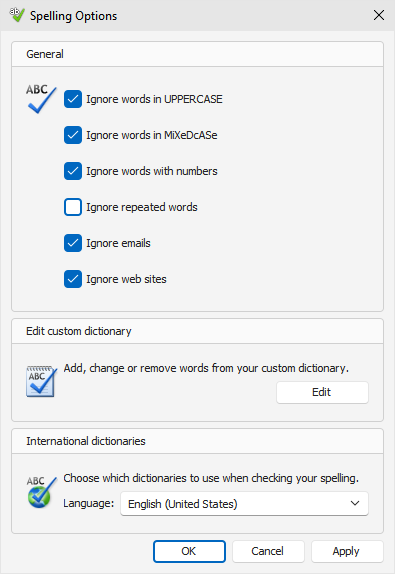 Here you can change various spelling options, edit custom dictionary and manage added dictionaries.
How to add a dictionary
To add a dictionary click the "Tools - Add Dictionary" main menu item. You will see a dialog box: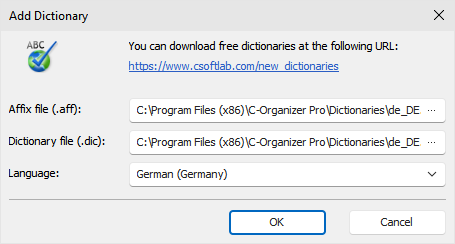 C-Organizer supports Hunspell dictionaries. You can download them at our website.
When you download the dictionary package, please unpack it into "...\C-Organizer Pro\Dictionaries\" folder, add a path to .aff and .dic files into the "Add Dictionary" window and select language. When you click OK, the dictionary will be added and turned on.
If you not found a dictionary for your language at our website, please note that Hunspell is the spell checker of LibreOffice, OpenOffice.org, Mozilla Firefox 3 & Thunderbird, Google Chrome, and it is also used by proprietary software packages, like Mac OS X, InDesign, memoQ, Opera and SDL Trados. Try to find the necessary files in Internet.