The Events preferences window contains two tabs:
Grid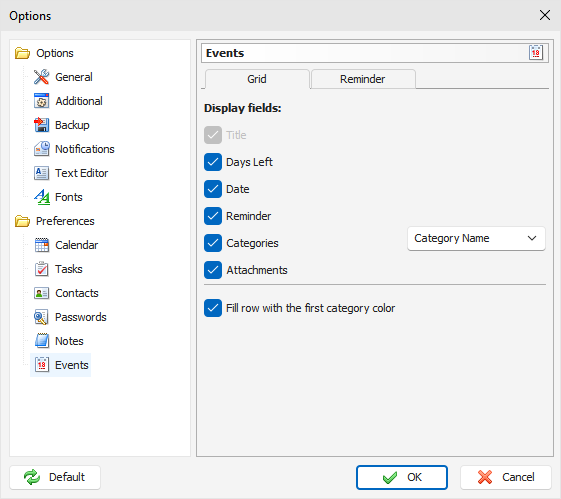 On this tab you can select fields which will be displayed for the Records list in the Events mode. To change the fields order, you can simply drag an appropriate column to a new position in the main window.
Also you can set up how to show the categories:
Category Color - a color box, filled by a category color will be displayed.
Category Name - a category name will be displayed.
If the "Fill row with the first category color" option is on, C-Organizer will fill entries, which have categories, by a first category color.
Reminder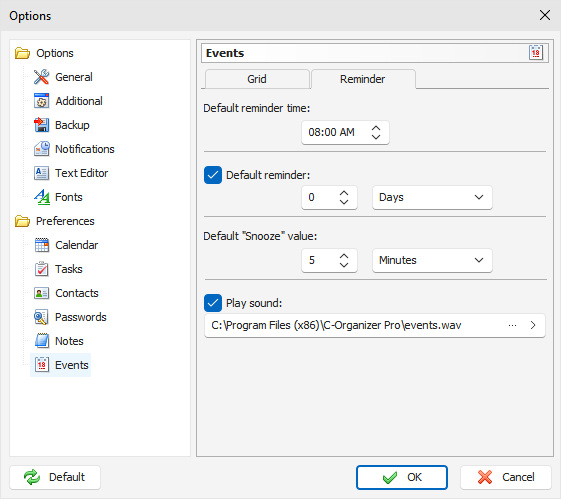 In this window you can change the following options:
Default reminder time - using this option you can set up a default reminder time for the events.
Default reminder - using this option you can set up a default "Remind before" value for the new events. Also when this option is on, reminder will be automatically activated when you create a new entry.
Default "Snooze" value - this options allows to choose default snooze value for the Reminder window.
Play sound - use this option to turn the sound alarm on/off, select an initial sound file and test-play it.