To add a new note press the "New Note" button or double click the empty area inside the viewing area. You can use shortcuts Ins or Ctrl + N as well. Also you can create a new entry in the Notes area by entering data in the upper row.
To edit an already existing entry press the "Edit" button or double click the record you want to edit in the viewing area. Also you can use Ctrl + Enter shortcut.
Dialog box for working with notes: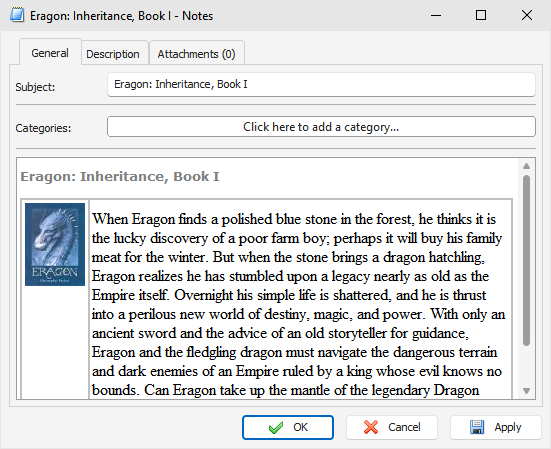 Fields description:
Title - a records title.
Categories - here you can assign one or more categories to the entry. See "Working with Categories" topic for more details.
Description - use this field to enter an additional note information and its description. The description field supports rich text formatting (RTF), pictures, tables and hyperlink insertion. See Working with text and descriptions topic more for details.
Attachments - allow to attach any file to the entry. All attached files will be stored directly in the database. See "Working with Attachments" topic for more details.