To add a new password press the "New Password" button or double click the empty area inside the viewing area. You can use shortcuts Ins or Ctrl + N as well.
To edit an already existing entry press the "Edit" button or double click the record you want to edit in the viewing area. Also you can use Ctrl + Enter shortcut.
Dialog box for working with passwords: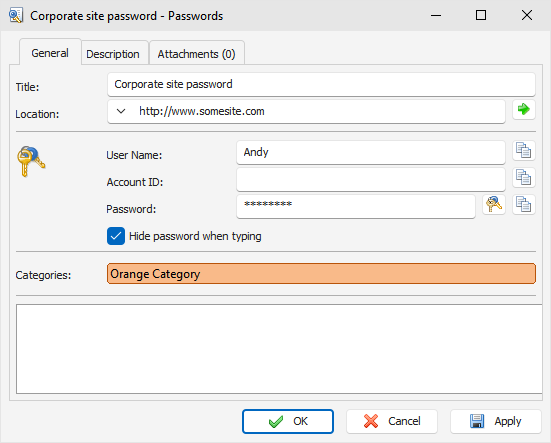 Fields description:
Title - the records title.
Location - use this field to store URL, file or folder path. This will enable a quick access to a linked document.
The User name, Account ID and Password fields are intended for storing an appropriate information.
To generate a password, press the "Passwords Generator" button near the Password field.
The Hide password when typing option can be used to make password viewing impossible while you entering it. Special symbols will replace the actual password on the screen.
Categories here you can assign one or more categories to the entry. See "Working with Categories" topic for more details.
Description - use this field to enter an additional password information and its description. The description field supports rich text formatting (RTF), pictures, tables and hyperlink insertion. See Working with text and descriptions topic more for details.
Attachments - allow to attach any file to the entry. All attached files will be stored directly in the database. See "Working with Attachments" topic for more details.