You can purchase our products either online or by using one of the alternative ordering methods, such as phone, mail, via fax, by check, cash, or bank/wire transfer.
For Registration, go to this page: http://www.csoftlab.com/shop, find the product you'd like to buy in the table and press the Buy now link under the product title.
Our products are delivered electronically. Online orders are fulfilled within 24 hours.
The registration key is sent by Email.
If you've made a payment, but haven't got a confirmation letter with your serial number (registration code) within a reasonable amount of time (one business day for credit card payments or two weeks for other payments), please notify us about that!

sales@CSoftLab.com
Our registration services:
ShareIt!, the authorized online retailer and most respected software registration service in US and Europe.
ShareIt! Element 5 AG Vogelsanger Str. 48, 50823 Koeln, GERMANY
PayPro Global, is the most convenient secure software registration service on the Internet.

PayPro Global 225 The East Mall, Suite 1117, Toronto, ON, M9B 0A9, Canada
How to enter your license information
After receiving of your license information, click the "Help - Registration" C-Organizer main menu item.
After that you will see the "Registration" dialog box.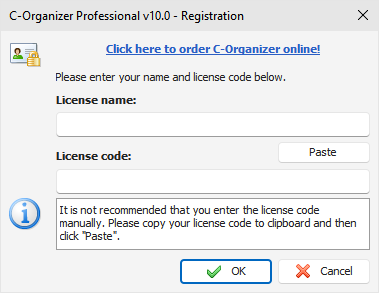 Please fill your License name and License code in the appropriate boxes and click the "OK" button.
C-Organizer will be closed to complete the registration. Please run the program again.