C-Organizer Pro installation package comes with Firebird server part. Server should be installed only on a computer, where you plan to keep common database file. There is no need to install Firebird server on other computers.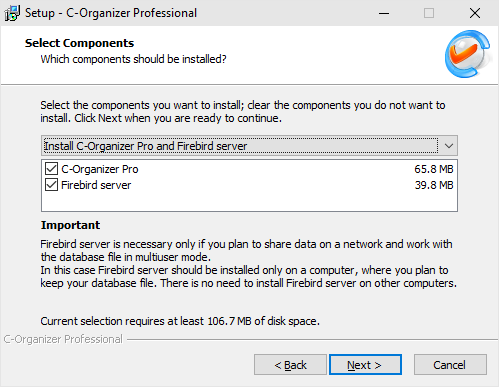 We've customized Firebird server installation package. It includes Firebird server v3.0.4, our plugins for database encryption, and already preconfigured to work with these plugins. Firebird version is very important. If you already have Firebird server installed, please make sure that you have version 3.0.4. Otherwise you should install this version. If you would like to use existing server, please follow these steps:
·Copy encryption plugins (CSCrypt.dll and CSHolder.dll files) into "...\Firebird\plugins\" folder. You can find these files in "...\C-Organizer Pro\fbclient\" folder.
·Add KeyHolderPlugin = CSHolder string into "firebird.conf" file and make sure that Firebird works in Super Server mode (ServerMode = Super).
·Restart Firebird server.
If you use our installation package, these steps are not necessary.